Titan Strikes: Take part in the battle of the titans
Microcosm: Experience the charm of being small
New TDM: Feel the exhilaration of the attack
OTS mode: learn the art of sniper shooting
Royale Pass S19: Traverse – Fantastic Adventures of the Little Boys
To give everyone a better gaming experience, PUBG MOBILE will be releasing updates from May 11th. The server will not be taken offline for this update. This update requires 660MB of space on Android devices. The iOS version requires 1.67 GB. Please note that players with different versions cannot collaborate with each other. So please update as soon as possible.

Update to the new version between May 11th and May 16th (UTC 0) to get:
2888 BP
100 AG
Banana bonanza (3 d) * 1

Titan Strikes: How to Play (Titans meet Erangel on May 11, Sanhok on May 15 and Livik on May 20, the event ends on June 8)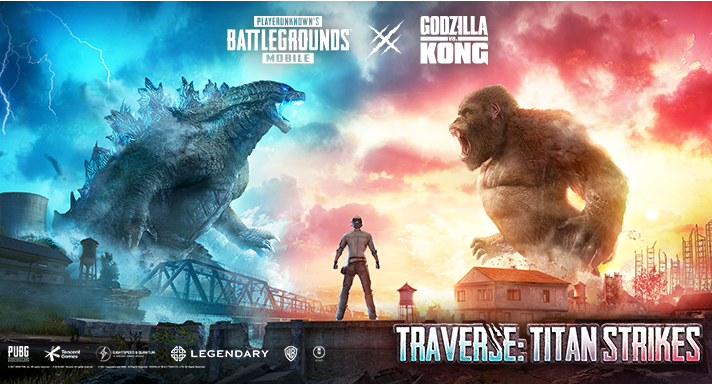 Mysterious titans have struck, and monsters below the surface of the earth are rising and forming settlements! Experience the shock and thrill of seeing the titans up close on the map! There are a total of three mysterious titans that can be found on Erangel, Sanhok and Livik. Once the gameplay is available, an entrance will appear on the map. Simply select the entrance to start the gameplay.
The Titans will first make a spectacular appearance on Spawn Island. After the fight begins, the Titan moves on a random path across the map and interacts with the newly added camps and monster settlements. Take the time to explore these new elements, including the Apex Expeditionary Army camps, monster settlements, and titanium crystals!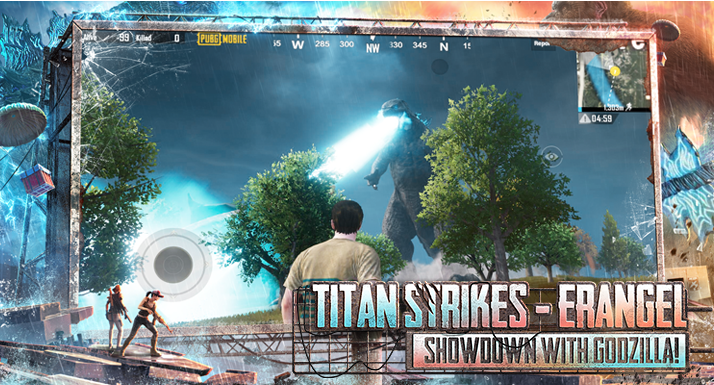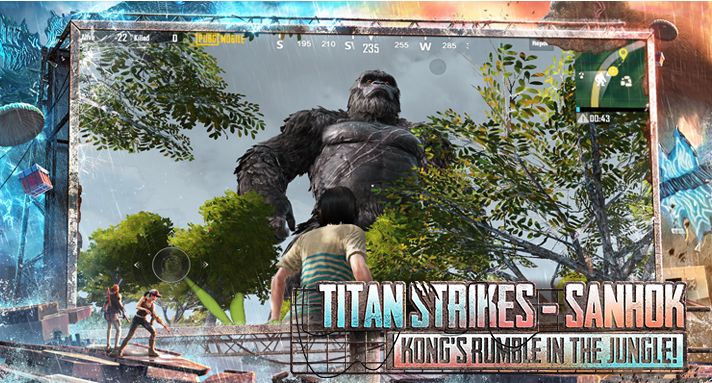 When a Titan encounters a monster settlement, his natural instincts take control and he will show no mercy to the underground monsters at his feet.
The Titans do not have fond memories of the Apex Expeditionary Army, which is why they will destroy all Apex camps in their own way.
While the Titans are usually not anti-player, having too many players in one place can irritate them. Watch out for attacks from an angry giant!

Titans gradually absorb energy emanating from Earth. Once the energy reaches a certain threshold, the titans release it and create titanium crystals around it. Different types of titanium crystals have different effects.
Erangel Titan Crystal: A special throwable item that knocks back and burns enemies
Sanhok Titan Crystal: A special crystal that improves the player's skills such as running speed and jumping height
Livik Titan Crystal: An item that can be used to detect nearby enemies for a short time

The Apex Expeditionary Army camps have an abundance of supplies. Players can enter and collect these supplies after a Titan destroys the warehouse.

Monsters that have lived underground are drawn to the surface by the energy of the titans. They are hostile and attack players who get too close. Defeating these monsters could bring useful resources and rewards.

The Titan on Livik has unique electromagnetic capabilities that affect the Blue Zone, causing it to shift from time to time. The titan's electromagnetic energy forms a special scanning circle that the player can enter to collect titanium crystals. However, this also makes their positions available to other players.
Titan Last Stand (May 25th – June 8th)
The Monarch Expeditionary Team boarded an aircraft carrier looking for traces of Godzilla in the sea. Little did they expect that they would be drawn into a battle between titans.
A helicopter will appear in the lobby UI. Tap the helicopter to play Titan Last Stand. Points earned during the event can be used to exchange for event rewards.
Microcosm (June 9th – July 5th)
Transform into a mini insectoid, stay out of sight, cross wormholes and experience the magical microscopic world! Avoid pans!
---
Pubg 32bit Download apk
---
New arena map: The Hangar (from June 1st)
Supported modes: Team Deathmatch, Arena Training and Team Gun Game
A hangar on a huge ship floating on a vast ocean. With plenty of covers, players can set foot outside to begin the fun. A tense and fast-paced battlefield that offers a range of tactical options: get up close or lean back. But whatever you do, you won't survive without quick responses and seamless collaboration with your teammates.
Team Deathmatch: Unlimited respawns. Eliminating enemies rewards players with +1 points, and the first team to eliminate the target number of enemies wins.
Arena training: Players can freely select weapons at the spawn point without having to set up a loadout.
Team Gun Game: All players start with the same weapons that can be improved by eliminating opponents. The winner is the first team to eliminate the opponent with the ultimate weapon, the pan, or the team with the highest score when the countdown ends.
Other map enhancements
After the update, the Metro Royal and Power Armor modes will be taken offline for improvement and will be displayed again at a later date.

New vehicle: Coupé RB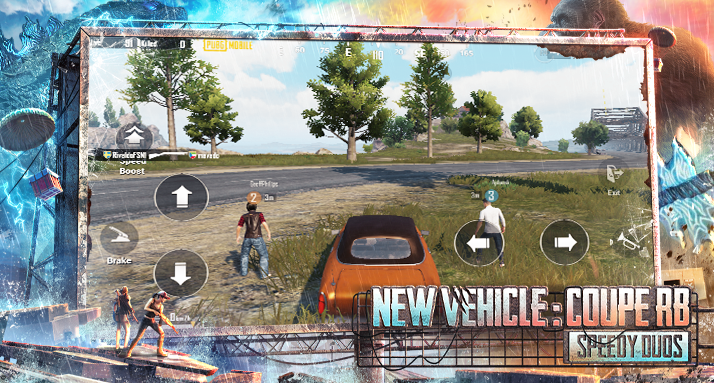 The new two-seater sports car, the Coupé RB, has space for you and a friend – but only one – to enjoy a fast race!
One of the fastest vehicles in Battle Royale mode. It can reach over 150 km / h.
Look out for the Coupe RB in Erangel, Miramar, Sanhok and Livik.
New recording mode: OTS (Over The Shoulder)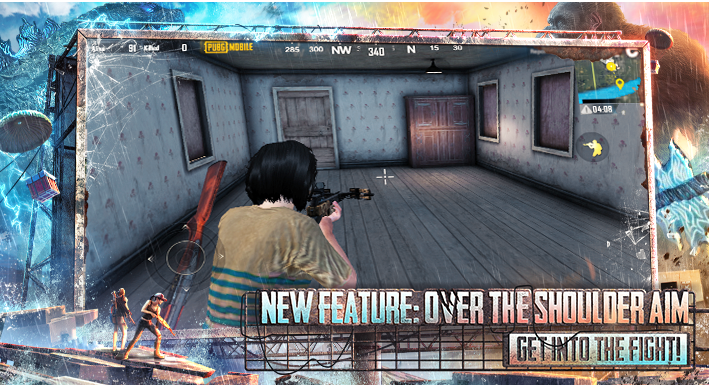 A new combat option: OTS. Press the OTS button to enter OTS.
When using OTS, the movement costs are associated with higher accuracy.
The OTS button can be fully customized and the sensitivity set separately.
OTS can be switched on or off under System Settings -> General Settings
M249 optimization
The appearance of the M249 has been updated and its statistics have been adjusted.
The fire and damage rate of the M249 has been reduced slightly. Recoil increased and magazine capacity decreased from 100 to 75.
New magazine and storage attachments have been added to increase the reload speed and capacity of the M249. With the increased magazine capacity, up to 150 cartridges can be accommodated.
The M249 can also be equipped with a tact stick to control recoil and improve stability.
Gun balance settings
The headshot multiplier on all pistols has been increased slightly.
Greatly increased damage multiplier of all guns for hitting arms / legs.
Increases the damage of the R1895 and significantly increases the rate of fire.
R45 and P1911 damage has been increased.
The damage of the P92 has been increased slightly and the rate of fire has been greatly increased.
The rate of fire of the desert eagle has been increased slightly.
Sniper rifle scope crosshair offset calibration
The updated Marksman rifles improved the scope's reticle calibration by reducing the drift of the reticle.

Fundamental performance improvements
Character creation has been updated to reduce the delay
The backpack has been updated to reduce the opening delay
Vehicles have been updated to reduce the delay in getting in and out
Updated GC strategy to reduce lag
The LOD and site trimming have been updated to increase the overall frame rate
The sky and water have been updated to increase the overall frame rate
Character rendering has been updated to improve frame rate and crowd rendering
Fixed the occasional startup crashes for iOS 1G devices
Security zone
In the new version there are more incentives for investigators to use the video verification function in the security zone. Players who earn the Master Investigator rank will receive the permanent Elite Investigator title. You can come into play with this title to display your achievements.
Video reviews have also been updated. There is new content waiting for the players, and the team of investigators is being expanded.
(3) Security improvements
Improved security detection for the all-talent championship, where inspections and penalties are dynamically adjusted to suit different online situations
Improved identification of various fraudulent behaviors, such as B. automatic aiming, changing perspective and removing grass
Investigator teams have been expanded and retired esports players have been recruited into investigator teams to improve the accuracy of judgment in controversial cases

Performance upgrade
The Achievement UI has been updated and hidden Achievements have been added. Hidden achievements are achieved once their conditions are met.
The Legacy Achievements system has been added. Players will not lose any Legacy Achievements that have already been unlocked. However, legacy achievements will no longer be available after removal
Added competitive gameplay; Players can now compete with friends for achievements
Added new Godzilla / Microcosm gameplay, hidden achievements, and moments-related achievements
Message Manager upgrade
Players can view new shop and consumable content directly in the message manager. The display of the number of messages has also been updated.
Synergy upgrade
Synergies can now be displayed on player information cards for players in teams and on the Match Results page. Players can customize what type of synergy they want to show first. If the player does not indicate a preference, his teammates with the highest synergy are displayed first.
BP gifts are upgraded to a higher value gift for Synergy Connections.
Tier upgrade
Rewards have been added for levels. Players can now receive rewards immediately upon reaching a level
The animal display has been updated to emphasize the sense of achievement when reaching new levels.
All-Talent Championship Upgrade
Participation in the All Talent Championship will now count towards completing the Daily Mission Combat Missions.

Royale Pass S19: Traverse (from May 17th)
Fantastic little boys adventures!
Traverse the microcosm for your new season: Insect Queen-Mini14 and Wonderland-AKM are up for grabs, and players can choose between the Insect Queen set and the General Beetle set valued at over 30,000 UC.
Choose a faction and open an RP box for the 3rd anniversary: ​​6 special weapons from previous seasons are back, so BANPICK your box!
RP File is here, so share your progress and rewards from previous seasons with other players!
Many more RP badges. Keep buying RP to unlock them and more exclusive benefits will follow!
In the Exploration Event, players can choose one of two Lv. 100 sets. There is also Wonderland Motorcycle and the Beetle General Thompson SMG to be won. Players can purchase event gift packs for quick level wins and then collect Mission Activity Points to get all of their UC back.
New mission content and new season content have been added, bugs have been fixed, and upgrades have been made.
Improvements to the Cheer Park
A new graffiti wall has been added and the ferris wheel has been updated to spin automatically.
Three weapons, MK12, M1014, and Famas, have been added to the training ground and Cheer Park. Try them out and practice.
The Emote / Bubble Lucky Spin in Cheer Park has been updated. Both can now be previewed from the Emote menu.
The volume for gun shots in Cheer Park has been adjusted.
A reporting option has been added to the interaction sphere.
In-match-like function
You may like your teammate's gameplay in the game. You can deactivate this function in the settings.
New friends features
New Social Feature: Players can now access Friend Moments from their personal area. They can post / share status information that only their friends can see.
Friend Status: Players can interact with their friends by liking or commenting on their status updates.
Popular Status: Players will be notified of the most popular statuses in their Friend Moments to ensure they stay up to date with the latest trends.
In-game album: A new album feature has been added. Players can now save in-game screenshots to the album.
Customizable online status messages
In the "Friends" sidebar, new online status options "Free", "Busy" and "Invisible" can be set.
The status can only be set to visible for 8 weeks,